** NOTICE FROM NN WATERCODE **
The following is an unauthorized site. DO NOT engage in filling out information on this site!
DOXO is a third party payment processor that is not authorized by the Navajo Nation Water Code
attached is a snapshot of the website in question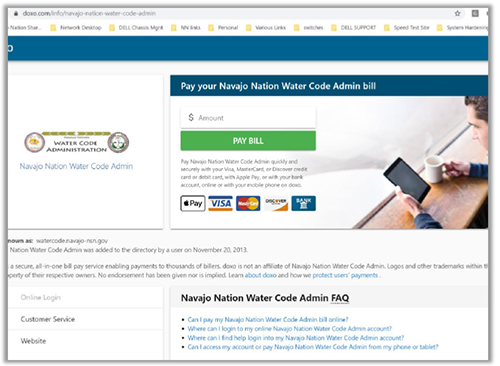 ---
The Technical, Construction and Operations Branch (TCOB), Department of Water Resources (DWR), is responsible for day-to-day implementation of the Navajo Nation's TCOB legislation (see below). We deal with regulating and permitting various types of well drilling and water use. We also engage in public outreach on Water Code issues, water use dispute resolution, provision of technical information, cooperation with agencies, and generation of Navajo Nation revenue from water use for construction, industrial, government, and commercial purposes. Please explore our site further, and the links available through it.
Legislative Basis for the Water Code
The Navajo Nation Council passed a comprehensive Water Code in 1984. The Code is applicable to "all the waters of the Navajo Nation," which include all surface and groundwater. The Code further declares that ". . . [I]t shall be unlawful for any person . . . to . . . make any use of . . . water within the territorial jurisdiction of the Navajo Nation unless . . . this Code [has] been complied with. No right to use water, from whatever sources, shall be recognized, except use rights obtained under and subject to this code. [Emphasis added. Title 22 N.N.C. § 1102.]
To review the entire Water Code, click on the "1984 Water Code Legislation" link to the left.